Anyone who has ever shared their life with a companion animal knows that at times they disapprove of us. That is not to say that they stop loving us, but rather that they love us in spite of our obvious shortcomings...



"I'm Latte, and I disapprove of this message."

Ajax the WonderGrey frequently tells me of his disapproval - when I laugh too loudly while on the phone he will often say "No" in a very stern, authoritative voice (I wonder where he learned that...). Gandalf the White (the elderly ferret I addopted recently - more on that in a later post) usually shows his disapproval of me by dragging one of my shoes into the next room and hiding it. I believe this is an attempt to keep me from leaving the house until I shape up and behave in a fashion more acceptable to his delicate ferret sensibilities.

I once had an American Eskimo who would simply ignore my presence when she disapproved of me. She would still follow commands - she was far too serious about obedience trials to actually disobey - but she could do all of the AKC exercises without even making eye contact with me. Her irritation with me was nearly palpable.

My Jack Russell would give out a sigh that spoke volumes on her disgust with me, especially when I was trying to get her to come out from under the covers to go outside in the wee hours of the morning. My ex-wife had a Saint Bernard who would put on the most mournful face whenever she saw a slicker brush...

If you've never had a disapproving pet, I endorse it most heartily. It keeps one grounded and stifles all manner of hubris. Until recently, my recommendation for those seeking the ultimate in animal disdain would have been cats - they're terribly proficient at gazing down upon their human slaves with utter disrelish - but that was before I discovered the Disapproving Rabbits.

Ordinarily, I'd be tempted to write my own captions, but the woman who maintains this site is top notch - the captions are hers. Clearly, she has been disapproved of by many animals, and she has a remarkable grasp of animal disgust.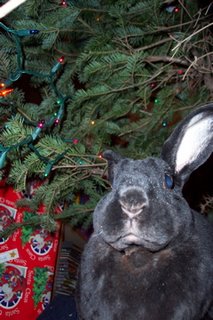 "Hazel: the rabbit that disapproved of Christmas."



"Nope, no sir, I don't like it."

That last one is very nearly my favorite. It is a fitting lead-in to "The Many Disapprovals of Cinnamon." Cinnamon is a veritable dynamo of disapproval. Click here to experience the full power of a withering bunny glare...